Kherson was the subject of fierce fighting and a dispute over who was in control. To the north, Kharkiv faced fresh shelling and an attack from paratroopers.
VINNYTSIA, Ukraine — As Russia stepped up its assault on key Ukrainian cities for a seventh day on Wednesday, the deadly fallout for Ukrainian civilians and economic repercussions on Russian citizens continued to grow.
Russia intensified its offensive on four strategic cities: Kharkiv, Mariupol, Kherson and Kyiv, with a mileslong military convoy continuing to threaten Ukraine's capital, though it appears to be stalled, a senior U.S. defense official said Wednesday.
Ihor Kolykhaev, the mayor of Kherson, said his city was encircled Wednesday and pleaded for an open corridor to move in supplies, such as food and medicine. He said an open route was also necessary so that they could transport out the wounded and dead.
"Without all that the city will not survive," the mayor said.
Kolykhaev said in a Facebook post Wednesday that Kherson was "in a difficult situation," and "waiting for a miracle," amid reports the city had fallen under Russian control. City Hall was shelled, residents should stay inside and officials were working to restore critical infrastructure that was destroyed, he added.
Kherson is among four strategic cities where Russia has intensified its offensive. The assault on those cities, which include Kharkiv, Mariupol and the capital Kyiv — currently being approached by a mileslong military convoy — continued on the seventh day of Moscow's invasion and threatened to bring even greater violence and destruction to civilian areas across the country.
President Joe Biden warned during his State of the Union address on Tuesday that Russian President Vladimir Putin would pay a "high price" for his actions and declared that the Russian leader was "now isolated from the world more than ever."
---
Latest developments on Ukraine:
---
After massing forces on Ukraine's borders for months in a tense standoff with Washington and Europe, Putin's initial aim seemed to be the overthrow of Ukrainian President Volodymyr Zelenskyy's Western-leaning government. But fierce Ukrainian resistance has contributed to Russian troops getting bogged down outside key cities, fueling fears that Moscow could resort to more brutal violence and escalate what is alreadyone of the most intense military conflicts on the continent since World War II.
A senior U.S. defense official said Wednesday that Russia has moved 82 percent of the force it had amassed along the border into Ukraine, adding that the U.S. had counted more than 450 Russian missile launches since the conflict began.
The official said it was not always clear whether the Russians were purposefully targeting civilian targets, but they said the missile and artillery strikes had grown more aggressive, which could cause them to become less precise.
"Clearly they are hitting civilian targets," the official said. "Clearly they continue to cause civilian harm." U.S. imposes further sanctions
The Biden administration intensified its sanctions against Russia Wednesday. The White House announced that it would put restrictions on technology exports that support Russia's refining capacity, a first step in targeting the country's energy production — a major financial support.
The Department of Justice also announced it would launch a task force to enforce sanctions. Called "Task Force KleptoCapture," the group includes the FBI and Marshals Services as well as the Secret Service, IRS, Postal Inspection Service and Homeland Security Investigations.
It "will investigate and prosecute current and future sanctions resulting from the Ukraine invasion." Those efforts will include fending off attempts by the Russians to undermine the financial restrictions, targeting the use of cryptocurrency to avoid sanctions and the seizing of Russian oligarchs' assets, the Justice Department said.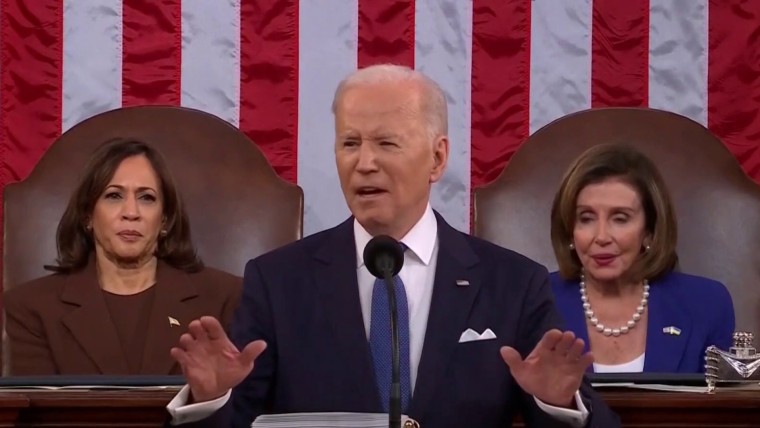 Meanwhile, Secretary of State Antony Blinken on Wednesday afternoon said the U.S. had taken an additional step and sanctioned 22 Russian defense related entities, "including companies that make combat aircraft, infantry fighting vehicles, missiles, unmanned aerial vehicle electronic warfare systems, the very system that is now being used to assault the Ukrainian people."
Even still, he emphasized that the U.S. was open to dialogue and hoped individual Russians understood that no one blamed them for the war.
Blinken said that path may be difficult, "but if Russia pulls back and pursues diplomacy, we stand ready to do the same thing."
Those announcements came after Biden, in his first State of the Union address, painted the intense global backlash against Putin as evidence that the United States and its allies could meet Russia's challenge to the post-Cold War order.
"He thought the West and NATO wouldn't respond. And he thought he could divide us here at home," Biden said. "Putin was wrong. We were ready."
"While he may make gains on the battlefield — he will pay a continuing high price over the long run," Biden added.
Russia's economy has spiraled since the U.S. and its allies imposed crippling sanctions. The Moscow Stock Exchange remained closed for the third day Wednesday, while Apple halted all sales of its products in Russia to add to the country's isolation.
Condemnation of Russia continues to grow internationally after the United Nations General Assembly voted overwhelmingly in favor of a resolution denouncing Russia's invasion and called for the end of hostilities in Ukraine. Five countries, including Russia, voted against it.
"The message of the General Assembly is loud and clear," UN Secretary General António Guterres said. "End hostilities in Ukraine — now. Silence the guns — now. Open the door to dialogue and diplomacy — now."
There is also growing evidence of some dissent within Russia, but Putin's government and the country's security services appear to be attempting to quash it. Two independent media outlets were blocked Tuesday after authorities accused them of reporting "false information."
Among other things, the Kremlin is not allowing the fighting to be referred to as an "invasion" or "war." The Russian Ministry of Defense did for the first time, however, announce its losses on Wednesday. It said that 498 Russian soldiers were killed in the conflict so far with an additional 1,597 wounded.
Zelenskyy has said up to 6,000 Russians have been killed.
In line with the Ukrainian president's estimates, two Western officials told NBC News that about 5,800 Russians have been killed. One U.S. official, however, cautioned that the estimates are extremely difficult to pin down in the fog of war and have ranged from as low as 500 to more than 5,000.
"The numbers are hard to really get a good handle on," a senior Western intelligence official added.
Meanwhile, Kremlin spokesman Dmitry Peskov said Wednesday afternoon that Russia was ready for a second round of talks with Ukrainian officials.
Mykhailo Podolyak, an adviser to Zelenskyy, said Wednesday that Ukraine had sent a delegation to western Belarus for talks that would take place on Thursday.
Later on Wednesday, David Arakhamia, head of Zelenskyy's party in parliament, walked back those sparse details on the talks, though he confirmed they would still happen.Casualties rising, supplies running low
Despite increasing strikes on civilian areas, Russian troops targeting Ukraine's two largest citieshave made little progress over the last day due to both "logistical difficulties" and strong Ukrainian resistance, according to Britain's defense ministry.
Russian artillery and airstrikes have aimed at "built up areas" in its target cities, the ministry added. Ukrainian officials have accused Russia of war crimes for targeting civilians and hitting residential districts. Moscow has consistently denied the claims.
"Many of our cities and villages are now suffering from Russian terror, but Kharkiv, Mariupol and Kherson are getting the most," Ukrainian Defense Minister Oleksiy Reznikov said in a Facebook post.
Russian paratroopers landed in Kharkiv, the key northeastern city with a population of 1.5 million, according to Ukraine's state communications service, citing its security service. Battles broke out between Russian and Ukrainian forces and Russian troops attacked a military medical center, the statement said.
Fresh Russian strikes also hit the regional police, the intelligence headquarters, and a building part of the Kharkiv National University, killing at least four people and injuring nine more, according to the Ukrainian state emergency services.
Videos and photos released by the emergency services showed fires burning on a roof, with piles of rubble littering the streets as firefighters watched charred debris fall several stories to the ground from burning buildings. NBC News has verified the video but not confirmed the numbers of any people killed.
The windows of the city council as well as buildings nearby were blown out after a cruise missile hit nearby, local officials said. NBC News has not verified the claim.
Food is running low in the city, with most shops closed and bread one of the only staples available to purchase, according to Denys Pavlenko, 33, who has been spending most of his time in the basement of his office with other family members. He recently decided that it was time to leave and said he plans to head to Lviv in the country's west.
"The first day was scary, but then you get used to it," he said of the airstrikes. "You get used to the blasts and shock waves, when your teacups are shaking, car sirens are going off outside."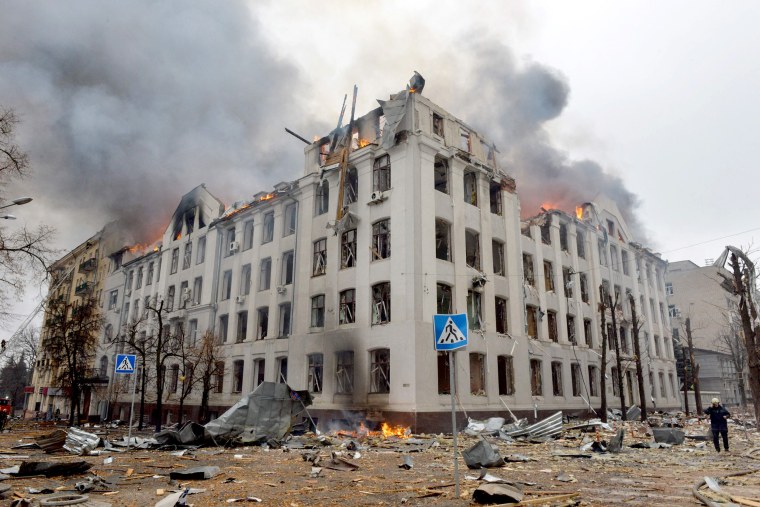 The city had come under an intensifying assault on Tuesday from the ground and the air, with around 21 people killed and 112 injured during the course of the day, according to Oleh Syniehubov, head of the Kharkiv regional council.
The port city of Mariupol appeared calmer on Wednesday after it had come under intense shelling a day earlier, Ukrainian presidential adviser Oleksiy Arestovych said.
Russia said it had the area surrounded with its forces controlling the entire coast of the Sea of Azov, according to Reuters.
Ukrainian officials have said they will focus their efforts on ensuring Kyiv doesn't fall.
Mayor Vitali Klitschko warned that the "enemy is bringing forces closer to the capital." Ukrainian and Russian forces fought overnight to the northwest of the city, he said.
"We are preparing and will defend Kyiv," he said in a video posted on Telegram.
To help with that defense, the U.S. delivered hundreds of stinger anti-aircraft missile to Ukraine this week with more than 200 arriving Monday, two Congressional officials briefed on the deliveries said.
That shipment is part of a $350 million lethal and non-lethal aid package the White House announced Friday night, though the Biden administration did not previously share that the packages included stinger missiles.
The relatively simple weapon can be fired by an individual to take down aircraft and helicopters and has been used in previous conflicts. The U.S. is known to have supplied them to Afghanistan's resistance against Russia in the 1980s.
Germany announced last weekend that it would send 500 stinger missiles to Ukraine, as well.
The Department of Defense and National Security Council declined to comment on the stinger missiles. A senior defense official confirmed the U.S. supplied weapons and assistance to Ukraine all week, but declined to say whether those shipments included stinger missiles.
The package also included Javelin anti-tank missiles and ammunition, the Congressional officials added, both of which the Zelenskyy government has said they need to fight off the advancing Russian military.
The additional military aid arrives as Zelenskyy accused Russia of aiming to erase his country after the intensifying airstrikes hit urban areas including Kyiv.https://iframe.nbcnews.com/BT82or2?_showcaption=true&app=1
"They know nothing about our capital, about our history, but they have an order: to erase our history, erase our country, erase us all," he said in a speech posted on social media early Wednesday.
Zelenskyy, who is Jewish, invoked the barbarism of the Holocaust on Tuesday after Russian forces hit a television tower located beside Babyn Yar, a Kyiv ravine where Nazi Germany committed atrocities during World War II. Five people were killed in the strike, he said.
Ukrainian officials and global leaders have accused Russia of hitting residential districts, but Russia has consistently denied targeting civilians.
Nearly 874,000 people have fled for neighboring countries since the Russian invasion began, the U.N. refugee agency said Wednesday.Families have been separated as a growing wave of people have fled their homes and attempted to ensure the safety of their children while others stayed back to join the fight.
The war killed at least 142 civilians in its first four days (Feb. 24-28), according to figures released by the U.N. Commissioner for Human Rights on Wednesday. The true figures are likely higher as further deaths have been reported since.
"Most of these casualties were caused by the use of explosive weapons with a wide impact area, including shelling from heavy artillery and Multiple Launch Rocket Systems as well as air strikes," the U.N. human rights office said in a statement.
Ukraine's state emergency services, however, said Wednesday that since the war began, around 2,000 civilians have died. The agency later walked back that number calling it "approximate" as it is unknown how many people are under fire or debris.
NBC News has not confirmed the numbers of any deaths.