(CNN)Hurricane Henri is marching toward the Northeast coast ahead of an anticipated Sunday landfall, threatening to bring damaging winds, dangerous storm surge, flooding and power outages to Long Island and beyond.Henri strengthened from a tropical storm late Saturday morning over the Atlantic with sustained winds of 75 mph. It could make landfall at or near hurricane strength on New York's Long Island or southern New England on Sunday, the National Hurricane Center said.Strong wind and rain will likely smack a broad area from New York City into New England — and since the area already is saturated from recent rain, Henri could easily down trees and set up days of power outages.
"We need to take this storm very seriously. Even if it doesn't make landfall as a hurricane, the tropical force winds and the storm surge can cause significant damage," Federal Emergency Management Agency administrator Deanne Criswell told CNN Saturday morning.
Hurricane warnings have been issued for more than 5.8 million people in areas including parts of Long Island's south and north shores, and from New Haven, Connecticut, to west of Westport, Massachusetts.
More than 36 million other people are under tropical storm warnings, including parts of New Jersey and New York — including New York City — and large parts of southern New England.Long Island has not had a hurricane landfall since Gloria in 1985. The last time a hurricane made landfall in New England was Hurricane Bob in 1991.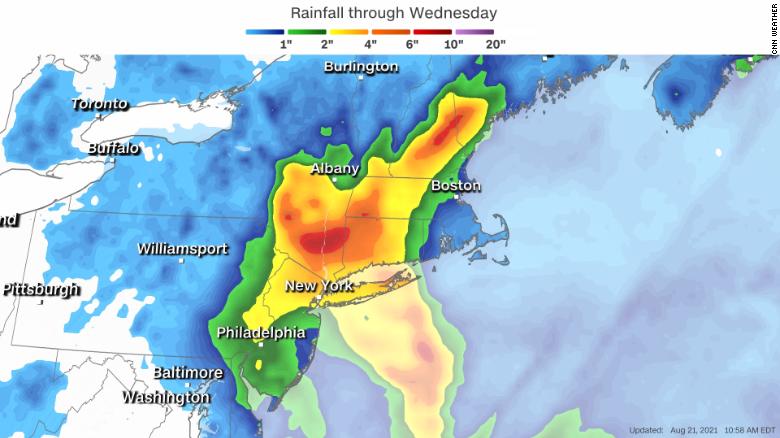 Forecast rainfall from Hurricane Henri.Storm surges also are a major concern: Surges between 3 and 5 feet are possible Sunday in areas including parts of Long Island to Chatham, Massachusetts, the hurricane center said.People living in an area under storm surge warnings "should take all necessary actions to protect life and property from rising water and the potential for other dangerous conditions," the hurricane center said Saturday morning.Portions of New England and southeast New York could see widespread rainfall of 3-6 inches through Monday, with isolated totals near 10 inches possible — and could lead to flash, urban and stream and river flooding.Isolated tornadoes may occur Sunday over southern New England.As Henri moves parallel to the East Coast on Saturday, rip currents also will be a concern from North Carolina to Massachusetts.More than 50 rescues from rip currents were reported in North Carolina's coastal Wilmington area alone on Friday, the National Weather Service in that city said.
Governor warns about travel plans
The governors of Massachusetts, Connecticut called up members of the National Guard to active duty late this week ahead of the storm, to be poised for any needed rescues, cleanup and other support.Massachusetts Gov. Charlie Baker urged people to avoid unnecessary travel and to delay weekend getaways to Cape Cod."For those that have already traveled to the Cape or Islands for the weekend, they are advised to consider leaving on Saturday or extend their travel plans through early next week" the governor's office said in news release.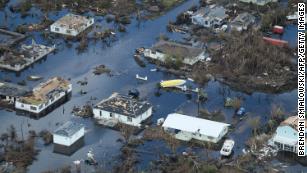 How the climate crisis is changing hurricanesNew York City Emergency Management issued a travel advisory for the city until further notice. All beaches in the city will close Sunday and Monday, according to city officials. Swimming and wading will not be permitted during those days.Rhode Island Gov. Dan McKee urged residents to prepare for the storm and announced he has signed an emergency declaration to unlock federal resources to support storm response.The governor urged residents to use caution along shoreline areas due to anticipated rip currents and high surf.
"Rhode Island has often experienced needless tragedy during storms when wave watchers and anglers who have climbed onto rocks near the shore get hit by waves and quickly swept out to deep water and drowned," he said.State beaches and parks will be open Saturday, according to the governor, but closed Sunday and likely Monday, depending on storm damage and required clean up.
CNN's Brandon Miller, Melissa Alonso, Judson Jones and Raja Razek contributed to this report.