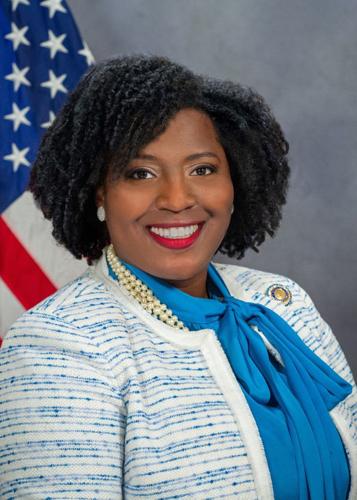 On the last day of Black History Month and on the eve of Women's History Month, Philadelphia state Rep. Joanna McClinton became speaker of the Pennsylvania House on Tuesday, the first female and the second African American to lead the chamber.
In the historic election, the House voted 102-99 to make McClinton the first African-American female speaker of the House.
McClinton is the second African American to serve as speaker, after the late Speaker Leroy Irvis. Irvis, who represented the Pittsburgh area for 26 years, was elected the first Black speaker of the House in 1977. He was reelected speaker in 1983 and served in that position until 1988.
McClinton became the first woman to serve as speaker on the strength of a new one-vote Democratic majority.
"It was almost 250 years before a woman could stand at this desk, not just to give a prayer, but to get the gavel," McClinton said after being sworn in. "That's pretty incredible."
McClinton, 40, grew up in southwest Philadelphia, where she still lives, and attended La Salle University and Villanova Law School. She worked as a public defender for several years and as chief counsel to state Sen. Anthony Hardy Williams.
Elected to the state House in 2015, McClinton represents West and Southwest Philadelphia, along with Yeadon and Darby, Delaware County.
McClinton is not new to making history.
In 2018, she became the first woman and first African American to be elected as House Democratic Caucus chair, and in 2020 she was the first woman elected House Democratic leader. Recently, McClinton became the first woman to serve as majority leader.
McClinton's rise to House speaker came nearly two months after Rep. Mark Rozzi, a Berks County Democrat, became the surprise choice for speaker. In November, Democrats flipped a net of 12 seats to retake majority control, but their margin didn't become effective until their candidates recently won three special elections.
"I will not allow the allure of power or the trappings of office to keep me from doing what is right. I was not elected by the people for this office and I will not stand in the way of the woman who was," Rozzi said in floor remarks. He called McClinton "one of the most intelligent and compassionate women I have met in politics."
McClinton, D-191st District, said she was in "complete awe and humbled" and acknowledged that it was the first time a woman had been elected speaker in the body's 250-year history.
"I'm confident if we collaborate rather than criticize, debate rather than disparage and replace shortsighted political gain with sincere cooperation, this body can do better — and will do better," McClinton said. "Today can be our fresh start. Each of us is here because our neighbors have placed their trust in us. And that collective trust is what empowers us to act in the interest of our communities and to advance Pennsylvania for the common good."
With the Democrats holding only a one-vote majority, McClinton will have a challenge moving forward an agenda in Harrisburg. She will need to negotiate with Republicans to move legislation forward. She already has the challenge of dealing with a fresh controversy involving Democrat State Rep. Mike Zabel of Delaware County being accused of sexually harassing a lobbyist for Service Employees International Union, one of Pennsylvania's most powerful unions.
Those who know her say she is ready to lead.
"She has been groomed for greatness years before having ever been elected for office," said Municipal Court Judge Lydia Kirkland of Philadelphia, a mentor of McClinton. "Based on this moment of time she is destined to fill places and spaces of power."
"Democrats, as people will tell us, we're stray cats," state Sen. Anthony Hardy Williams told the Philadelphia Inquirer. "But Jo traditionally doesn't lead with her agenda, she traditionally tries to listen to other people, and I imagine that will be the case as speaker."
McClinton has already reached out to Republicans, promising to govern with fairness, conviction and diplomacy.
"The majority will no longer silence the minority," McClinton said.
McClinton told the Democratic caucus: "You put your faith in me to be our collective voice. While we have challenges, we must also have solutions."
Gov. Josh Shapiro now has an ally in the House of Representatives with fellow Democrat Joanna McClinton.