Numerous hip-hop figures are urging fans to boycott Gucci over the Italian fashion house's release of a high-neck black wool sweater closely resembling blackface.
Although Gucci has apologized and pulled the sweater from stores, rappers like T.I., Soulja Boy, and Waka Flocka Flame have issued strong statements of protest against the fashion brand.
"As a 7 figure/yr customer & long time supporter of your brand I must say…Y'all GOT US f—ed UP!!! APOLOGY NOT ACCEPTED!!!!" Tip wrote on Instagram alongside a Gucci logo. "We ain't going for this "oops my bad I didn't mean to be racist and disrespectful towards your people" shit!!! Y'all knew wtf y'all was doin and WE AINT GOING FOR IT!!!"
Soulja Boy, who is often seen wearing a Gucci headband, also took to social media to share his frustration over the blackface sweater.
"Smh what is this man? —-‍♂️ no more @gucci headbands for me. Who's responsible for this? Because it's not funny! At all!" the rapper posted on Instagram alongside a photo of a model wearing the sweater.
Earlier this week, Gucci apologizes for the clothing item, writing in a statement: "We consider diversity to be a fundamental value to be fully upheld, respected, and at the forefront of every decision we make."
See more social media reactions below.View image on Twitter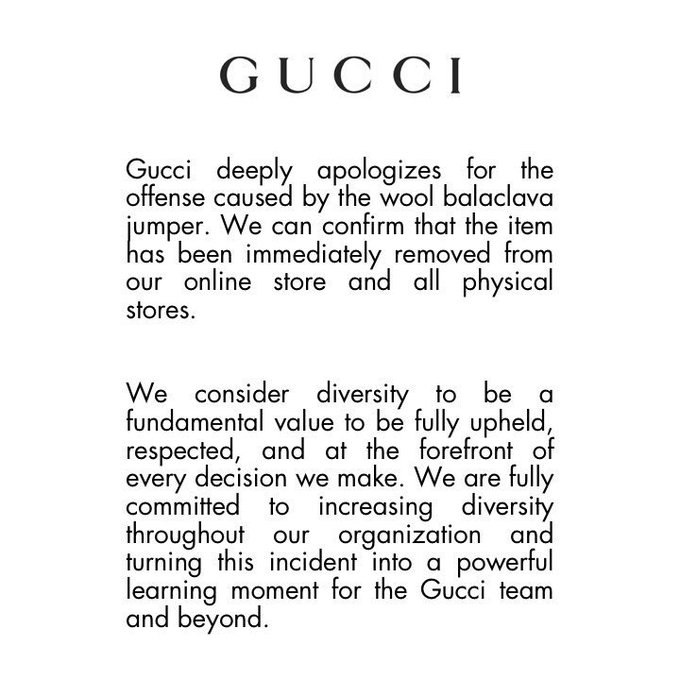 Gucci deeply apologizes for the offense caused by the wool balaclava jumper.
We consider diversity to be a fundamental value to be fully upheld, respected, and at the forefront of every decision we make.
Full statement below.6,04710:08 PM – Feb 6, 20194,296 people are talking about thisTwitter Ads info and privacy
Gucci.
You…..
You didn't know?

Okay. Because…. what else? What else is this? What else is this"inspired by?"
What.
There's nothing else.Rashida Reneé@fuckrashidaBalaclava knit top by Gucci. Happy Black History Month y'all.We can't show you everything!We automatically hide photos that might contain sensitive content.Show Media1738:09 AM – Feb 7, 2019Twitter Ads info and privacy82 people are talking about this
---
Posted by: famproent on February 9, 2019 previous - next